Instant Skiing, Instant Fun: Skiboards – Best Kept Secret on the Slopes ebook
$2.95
This is the first of its kind. In Instant Skiing, Instant Fun: Skiboards – Best Kept Secret on the Slopes, ebook. Doc Roberts shares his experience not only as CEO and President of Skiboards.com
Description
This is the first skiboarding book of its kind. In ebook format, Instant Skiing, Instant Fun: Skiboards – Best Kept Secret on the Slopes, you'll learn all about the fun sport of skiboarding. Doc Roberts shares his experience as CEO and President of Skiboards.com for the last 20 years. He offers his extensive experience riding skiboards as well as hearing from customers worldwide. In addition, he offers his life's work in guiding individuals to live to their fullest potential for over 30 years. Anyone, of any ability level, can learn to ski instantly AND have fun at the same time. Bring a whole new level of excitement in their life.
Providing research from Breakthrough Psychology and Neuro-Plasticity, he shows how to bypass the typical mentalization and fears associated with learning to ski. Instead, with skiboards and knowledge of the principles of breaking through old conditioned habits, you can not only learn to ski in one day or less, but have the experience of peak moments that are usually only reserved for expert skiers.
Included in this ebook are the basics of choosing the right skiboards, how to tune and maintain your skiboards and testimonials. Additionally, you'll get specific tips to handle any terrain or conditions with ease. It also includes the basics of instant skiing techniques, including carving, stopping, traversing, skating, moguls, glades and more. This is a must  buy if you have ever been curious about skiboarding or just breaking out of the traditional ski rut.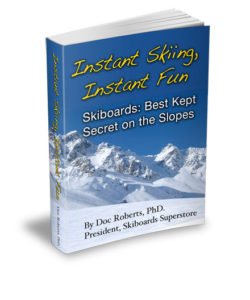 Anyone can learn to ski instantly and have fun doing it! No longer is it necessary to lug that long, heavy equipment up to the slopes, and then struggle to make your way down the hill. Forget years of lessons or being stuck on beginner or intermediate runs. Life is too short for that. Skiboards, along with the tips offered in this Instant Skiing method, will dramatically shorten your learning curve, even for experienced skiers. Read more if you are new to skiboarding.
Skiboards spark a new sense of confidence, capability and joy, accelerating personal freedom and creative expression on the ski slopes. About twice the width of skis, half the length and pure fun from the very first day, skiboards feel more like skates, with similar balance and maneuverability. Being totally easy to ride, and designed to handle all terrain and conditions, skiboards will literally transform your snow riding experience.
Doc Roberts, PhD., a long time skiboarder and owner of the Skiboards Superstore, Inc. shares his discoveries in Instant Skiing, Instant Fun: Skiboards – Best Kept Secret on the Slopes regarding the essential secrets to learning to ski the natural way. Using your innate body wisdom, you can jump right into carving parallel turns, while being able to stop whenever you choose. Being able to master the equipment so quickly, instant fun becomes an everyday occurrence.
Yet, the best kept secret is that this increased frequency of peak moments begins to carryover into daily life. The simple mechanics of instant skiing ignites greater freedom, joy, creative expression, energy and a renewed vitality. Using this tool to simply enter the state of Flow or the Zone opens the door to realizing your greater human potential, on and off the slopes.
Doc Roberts, Ph.D., is a Human Potential Trainer and national seminar leader. He has presented his empowering seminars throughout the U.S. for over thirty years in the field of personal success, internet marketing, instant skiing, peak performance and self-actualization. He is also the founder and owner of the Skiboards Superstore, Inc. Dr. Roberts has a B.S. in Behavioral Psychology, M.S. in Vocational Counseling and Ph.D. in Human Potential Psychology.
Learn more: Learn to Ski in One Day.