Learn to Ski in One Day with Summit Skiboards!
Frustrated on long skis?
Can't keep up with friends or family?
Tired of being in ski classes and lessons?
Stuck on the beginner or intermediate runs?
Now you can learn how to ski in one day! No kidding!
You deserve to have those exhilarating peak experiences on the ski slopes right from the first day. But, until now these were reserved only for those expert skiers who have spent years and years learning. Well, not anymore.
You can now learn to ski in one day with Summit Skiboards! With Summit skiboards, you begin to experience those thrills right from the first day, and then, it gets even better and the learning curve accelerates. Riding on Summit Skiboards, you are free to have fun, without all the frustration.
Summit Skiboards deliver a combination of performance, handling varying terrain and conditions, with fast turns and stops, bringing a deeper sense of confidence than you have ever experienced before. With Summit, you get to experience true freedom and joy like never before.
Learning to ski on long skis takes a lot of time and lessons to become competent. Meanwhile, you don't get to play and experience the freedom that you truly want. It's frustrating, disappointing and undermines a person's confidence. Many people quit, no longer returning to the ski slopes. Others just remain stuck on the Beginner or Intermediate runs. This is not the experience YOU desire when they go skiing. You want fun, freedom, great memorable ski vacations and to ride with friends and family. If you are new to skiing, read more.
Why are Summit Skiboards easier than skis or snowboards?
These are constructed with a wood core and easy turn parabolic shape that allows maximum performance on any mountain, yet with a length that allows a more natural upright stance. These turn quick without all that length to maneuver. The natural stance promotes proper balance, easy of use and a comfort on the mountain you may never have experienced before. Even if you choose to go back to skis, after riding summit skiboards, you will notice a dramatic improvement in your ski skills.
Benefits of using Summit Skiboards: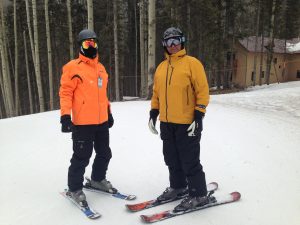 Rapid skills improvement
Fun, not frustration on the slopes
Immediate improvement in confidence
Continued growth every day you get on them
Opens up more of the mountain almost immediately
We offer a few "easy ski" models so you can learn to ski in one day:
Just like its name Easy Rider, teens and adults can experience a super fun and easy time riding the ski slopes. These are mounted with the Tyrolia SLR 7.5 ski bindings fitting ski boot sizes Adult 3 to Adult 13. U.S. Don't even think that these are just toys, however. Featuring the same c
onstruction as our more advanced skiboards, with wood core, twin tips, sintered bases, aluminum reinforcement plate and triaxial fiberglass, these are very durable, with a really smooth flex to enjoy effortless carves. Older kids too can use these to learn and progress on. In addition, we offer our other "Easy Ski" for adults as well.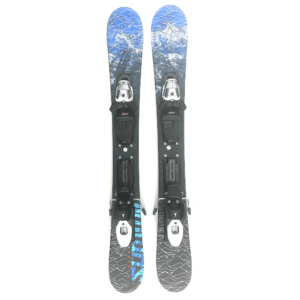 "EZ" is what the Summit EZ 95 cm Easy Ski Skiboards are all about. These are truly "Easy Skis" offering almost instant parallel carves and quick turns, yet performance at speed without the chatter you may find in lesser quality constructed skiboards. Mounted with Atomic M10 bindings.
The Summit ZR 88 cm Twin Tip Skiboards are truly one of the funnest skiboards made by Summit Skiboards. With the ZR 88's, Summit continues to take the sport of skiboarding to a whole new level of performance, while being able to carve circles around anyone (literally). These are fast, turn super quick thanks to the parabolic shape, float in the soft stuff and basically will take you anywhere you care to go on the mountain. These truly feel like having a pair of skates on with how maneuverable they are. Select Atomic L10 Ski Bindings.
Want to learn about skiboards  and learn how to be skiing fast? Want to improve your skills quicker?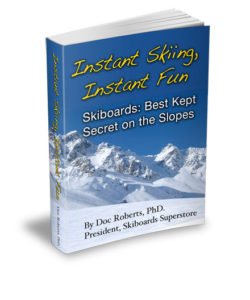 The first and only book all about skiboarding, you can buy Instant Skiing, Instant Fun: Skiboards – Best Kept Secret on the Slopes written by the owner of Summit Skiboards, Doc Roberts, Phd. Now available in paperback or downloadable pdf.
"Anyone can learn to ski instantly and have fun doing it! No longer is it necessary to lug that long, heavy equipment up to the slopes, and then struggle to make your way down the hill. Forget years of lessons or being stuck on beginner or intermediate runs. Life is too short for that. Skiboards, along with the tips offered in this Instant Skiing method, will dramatically shorten your learning curve, even for experienced skiers".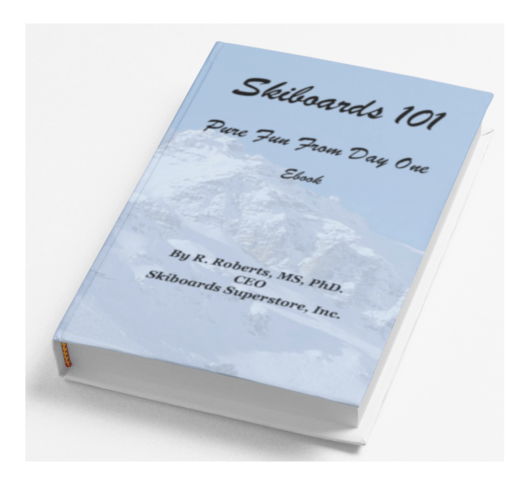 2. Free Ebook – Skiboards 101: Pure Fun From Day One
Learn about skiboards, how to choose the right ones for you, tips on riding and more.